Further information and links to accompany this 38 Degrees 'CAMPAIGNS BY YOU' petition to

OUTLAW CONFLICTS OF INTEREST WITHIN GOVERNMENT
#fracking #FossilFuels #ClimateChange #BigSix #BigFour #NHS privatization


(the twitter keywords exemplify elements affecting or affected by such conflicts of interest)
Short address for the petition: bit.ly/outlawconflictsofinterest (<<< easy to remember and pass on to others, no need to add the www. or http:// in front if typing in).
Please sign it!

Author: Dr Henry Adams, Consultant Ecologist and member of SLACC-TT (South Lakes Action on Climate Change - Towards Transition) and

South Lakes WDM

aka South Lakeland group of the World Development Movement
. Both these groups are campaigning on climate change and I have written this petition partly as a contribution to the aims of both these groups and also with their help.


2014 UPDATE: The "lobbying bill" now more appropriately known as the "gagging bill" got through both HoC and HoL at the end of January 2014 and will become law - a loss to democracy and another shift towards increasing corporatocracy. However: please do not give up on this petition and campaign, as we hope another opportunity may arise if we have a change of government after the next general election. So please sign it: I hope to update the petition (if I can), so that it also applies to any future attempts at controlling corporate lobbying.
Please also sign this petition by Young Friends of The Earth: 'We call on

Lord Browne

to resign from his position in the Cabinet Office due to his vested interests in profiting from fracking and the conflict of interest this causes'
NEWS:
11nov13
George Monbiot:
'It's business that really rules us now'
Lobbying is the least of it: corporate interests have captured the entire democratic process. No wonder so many have given up on politics
- Comment is free - The Guardian
11nov13 Damian Kahya: 'Who is on secondment at DECC right now?' [FOI request reveals who] ENERGYDESK, Greenpeace UK.

Could that include e.g. Centrica and Shell?!
10nov13
Damian Carrington & Andrew Sparrow:
'Gas industry employee seconded to draft UK's energy policy
'Documents reveal Decc's head of capacity market design comes from ESB, which owns three gas-fired power plants'
- Environment - The Guardian
CONTENTS layout below:
Below the boxed section with thumbnail graphics I have appended
a list of reference links such as for the infographics.

Scroll down.
Beneath that there is a block of text enlarging on the text in the petition.
The boxed section below is copied from my main fracking web-page, with modifications:
| | |
| --- | --- |
| Via NS Pugh, but creator? | |
It's not only

central gov:

'Exclusive: Local authorities have 'conflict of interest' on fracking investments' - UK Politics - UK - The Independent 27apr14

Links

The 38 Degrees 'CAMPAIGNS BY YOU' petition to OUTLAW CONFLICTS OF INTEREST WITHIN GOVERNMENT

Petition by Young Friends of The Earth: 'We call on Lord Browne to resign from his position in the Cabinet Office due to his vested interests in profiting from fracking and the conflict of interest this causes'

The pdf HERE is an evolving document (with reference links) that gives more depth and breadth of information on the variety of unacceptable conflicts of interest within government which provide scope for undemocratic 'internal lobbying'. But first read the text below this links section.


IGNORE this for now as couldn't be updated due to HDD failure: My web-page on the 'Lobbing Bill' aka "gagging bill" as the latter more correctly describes its present state LobbyingBill.html

Fracking web of power infographic usable as a poster: http://www.dragonfly1.plus.com/NexusForFrackingA4.pdf




WDM Fracking web of power interactive

infographic

: http://

www.wdm.org.uk/fracking/index.html




WDM Fossil Fuel Web of Power interactive infographic: http://www.wdm.org.uk/carbon-capital/nexus
"Fossil fuel web of power - the links between UK government ministers and companies fueling climate change - World Development Movement"

Url for section on my main fracking web-page for information and action against fracking web of power: http://www.dragonfly1.plus.com/FRACKING.html#action


Tamasin Cave is a director of

SpinWatch

and leads the

Alliance for Lobbying Transparency coalition

, which is campaigning for a statutory register of lobbyists in the UK. She is the co-author with Andy Rowell of 'A Quiet Word: Lobbying, Crony Capitalism and Broken Politics in Britain' c.April 2014.
'The truth about lobbying: 10 ways big business controls government' Tamasin Cave & Andy Rowell 12mar14 The Guardian
I've yet to read this book as it's very new: it looks like essential reading on this whole topic:
Tamasin Cave and Andy Rowell's new book 'A Quiet Word: Lobbying, Crony Capitalism and Broken Politics in Britain' (Bodley Head, 2014) "reveals the grubby paw-prints of corporate lobbyists all over UK public policy—rigging debate, swaying policymakers and crushing opponents." - summary description of it in this article: '13 Major Policies That Were Victories for Corporate Lobbyists' - New Left Project Articles.
'A Quiet Word Lobbying, Crony Capitalism and Broken Politics in Britain' Tamasin Cave, Andy Rowell.

Amazon.co.uk

<< You can read several sample pages.
'Lobbyists - what alcohol and gambling learned from tobacco' Tamasin Cave, 13jan14 openDemocracy.
'Smoke-Filled Rooms' - George Monbiot, 17mar14, refers to above.

ALTER-EU - Alliance for Lobbying Transparency and Ethics Regulation - www.alter-eu.org/


Re 'internal lobbying' by

Lord Browne

:


Cuadrilla boss continues lobbying from inside government

26aug13 Frack Off


Cuadrilla boss in new lobbying scandal

25jul13 Frack Off - refers and links to DECC 16apr13 response to

FOI request by Caroline Lucas

: lordbrownemtgs (pdf)
Fracking in the UK: FOI's show

Lord Browne

intervened to try and water down environmental regulations for Cuadrilla Damian Kahya 19aug13 ENERGYDESK Greenpeace UK




Unburnable carbon 2013 - Carbon Tracker - read about the '

carbon bubble

', potential '

stranded assets

' and the need to

divest

from fossil fuels

2013's most useful and readable book re tackling climate change: The Burning Question

. . . . .

. . . . .

. . . . .

. . . . .

. . . . .

. . . . .

. . . . .

. . . . .

. . . . .

. . . . .

. . . . .

. . . . .

. . . . .

. . . . .

. . . . .

. . . . .

. . . . .





Here is the full text for sections 2. and 3. of the petition, transferred to this web-page to prevent the petition becoming too off-puttingly long




2. FOSSIL FUEL interests and CLIMATE CHANGE

The embedding of fossil fuels interests within the UK government, which is pervasive through many of its departments, is one of the main obstructive forces to action on climate change by the UK. This is shown well by WDM's infographic 'THE FOSSIL FUEL WEB OF POWER' (see thumbnail to left), which reveals that "a third of UK government ministers are embroiled in a web of influence" with the fossil fuel industry and the finance sector which bankrolls it, and consequently also "bank-rolling climate change". Also "executives at big finance and energy firms are often appointed to serve on government committees or regulatory bodies."

Caroline Lucas MP revealed that at least 50 employees of energy/gas/oil companies are working within government.

We thus have both 'internal lobbying' as well as the more widely debated external lobbying. The "lobbying bill" aka "gagging bill" for its dangerous Part 2, pretends to regulate external lobbying but does not even address internal lobbying (the "elephant in the room").

The finance sector (which pays half of the Tory Party's funds) is gambling on there being no effective major climate change legislation in the foreseeable future, because if there was - it would make worthless much of their fossil fuel investments, because we will have to leave 75 to 80% of fossil fuel reserves in the ground to have any fair chance of keeping the global temperature rise below the 2oC.threshold agreed in the Copenhagen climate summit. Our present trajectory is heading nearer to a disastrous 4oC rise. This desire to maintain and even inflate what has become "the carbon bubble" explains some of the motives behind the inertia claw-hold on and in government by the fossil fuel web of power and why it is so against the interests of the majority of us and especially our children.

The result of the above is that the UK government, despite its occasional rhetoric of concern for the climate, is actually strongly pushing forward for investment into the most extreme high emissions and/or high risk forms of fossil fuel extraction, such as from fracking, deep-sea arctic drilling, and "dirtier oils" such as from tar sands. Even recent NERC funding is for research into these methods to help the oil industry. Also it has been trying to delay implementation of EU climate change legislation or dilute it to a mere ineffective pretence, e.g. in the Fuel Quality Directive - to limit dirty oil such as from tar sands.

Furthermore, Osborne claims the UK has already done more than its fair share in reducing emissions, but in saying that disregards the emissions UK brings about abroad, and the fact that the City of London ("The Carbon Capital" of WDM) is a major, or the biggest (in money terms), global centre for investment into fossil fuels, a fact that he also works hard to protect by trying to disable any proposed EU climate legislation that might threaten it.

Why it is bad for us to have the Big Six and fossil fuel industry embedded in our Government is also portrayed well here:
James O'Nions of WDM wrote a very powerful piece in red pepper showing why and how we need community democratic power over power, not corporate power over power: 'Editorial: All power to the community' - "rewiring the economy for energy democracy"

3. OTHER CONFLICTS OF INTEREST:

THE BIG FOUR: The embedding of the Big Four multi-national accountancy firms within government - more specifically within The Treasury / HMRC with 'revolving door' secondments/assignments is resulting in the legalization rather than blocking, of former loop-holes for tax-dodging by big companies and the wealthy, and the creation of new tax-dodging mechanisms for multinationals including ways to make easier their use of tax havens. These four firms have an enormous income from advising big corporations and wealthy people on tax avoidance, and their role in this is a very important part of the tax avoidance system not just in the UK but globally. The consequence of this loss of revenue from the wealthy is increased cuts for the poor and an uneven playing field for the disadvantaged SMEs who usually cannot take advantage of these tax breaks.

NHS: The government push for PRIVATIZATION of the NHS despite an election-time promise of no major re-organization is associated with MPs who have invested in private health companies who stand to gain from the privatization. They should have been denied any voting or influence in or on government on these proposals.
REF: What is the evidence that Cabinet Ministers have interests in health corporations? 12oct13 (Weston General Hospital Patients Before Profit Campaign)

The above is just a small selection of the 'internal lobbying' threat which can occur via conflicts of interest within government (aka "corruption" to the public). I have been told that a comprehensive coverage would fill at least a book! I have created an evolving document (with reference links) that gives more depth and breadth than above (link below).

For those of you concerned with the increase of corporate power within government, you may also be concerned by their bids for power over and above governments, as can be gained in the "behind closed doors" negotiations for FTAs (Free Trade Agreements, such as the TTIP {EU-USA) and the CETA (EU-Canada). But that is another big topic (also on my website).


The full version of paragraph 2 with a qualification I added having read an article by Transparency International


Rules for procedures aiming to prevent this from happening currently apply to local government, thus why not also in central government? (Be aware that the local government code of conduct has been weakened by coalition legislation so that not all of local government law now provides a perfect anti-corruption model).

REF: Coalition Government at Corruption Crossroads - Which Turning Will It Take? by Robert Barrington of Transparency International.




. . . . .

. . . . .

. . . . .

. . . . .

. . . . .

. . . . .

. . . . .

. . . . .

. . . . .

. . . . .

. . . . .

. . . . .

. . . . .

. . . . .

. . . . .

. . . . .

. . . . .





For even more information:



The pdf HERE is an evolving document (with reference links) that gives more depth and breadth of information on the variety of unacceptable conflicts of interest within government which provide scope for undemocratic 'internal lobbying'.

. . . . .

. . . . .

. . . . .

. . . . .

. . . . .

. . . . .

. . . . .

. . . . .

. . . . .

. . . . .

. . . . .

. . . . .

. . . . .

. . . . .

. . . . .

. . . . .

. . . . .





An ominous aside:



If corporate internal lobbying is one step worse for democracy than external lobbying, then the "behind closed doors" lobbying and negotiations that bring about FTAs is potentially a giant leap worse:
The

Free Trade Agreement (FTA)

- A Trojan horse for legalizing corporate control over governments? For big multinational corporations to trump sovereignty, over-ride national laws and ignore democracy? -
FTA threats: www.dragonfly1.plus.com/

FTA_threats

.html re e.g. CETA, TTIP, NAFTA etc. <<<

a new web-page

.


Monbiot refers to the corporate lobbying behind the TTIP as a

"

direct assault on sovereignty and democracy

"





. . . . .

. . . . .

. . . . .

. . . . .

. . . . .

. . . . .

. . . . .

. . . . .

. . . . .

. . . . .

. . . . .

. . . . .

. . . . .

. . . . .

. . . . .

. . . . .

. . . . .




For avid twitter users:

Some keywords with twitter hashtags where applicable:

#conflictsofinterest #conflictofinterest #fracking #fossilfuels #climatechange #bigsix #big6 #bigfour #big4 #nhs privatization #lobbyingbill

Relevant twitter examples of use of #conflictsofinterest: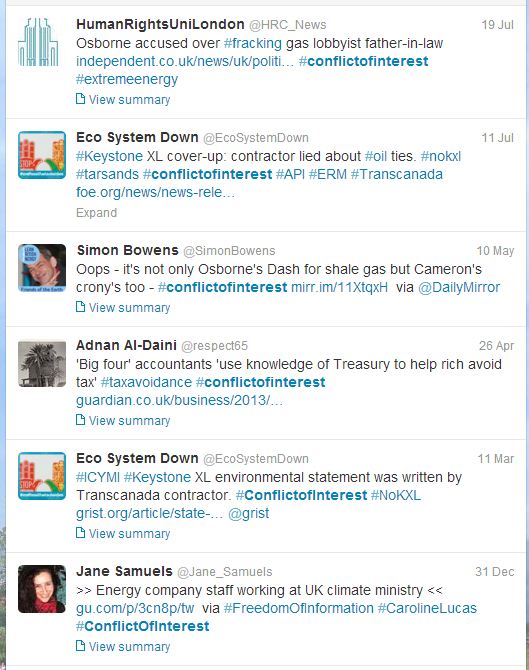 The present website url:
http://www.dragonfly1.plus.com/

Outlaw-Internal-Lobbying

.html

Longer original title:
Conflicts of interest within government must be outlawed
One example of many is Lord Browne's fracking interests