The
POSTER below
The A4
"Google TAR SANDS RBS POSTER"
below is designed to get key facts and associated icons across to people in a hurry, and to encourage readers to voice their opinions to those with influence.
Things you can do with this poster - see below this gif image.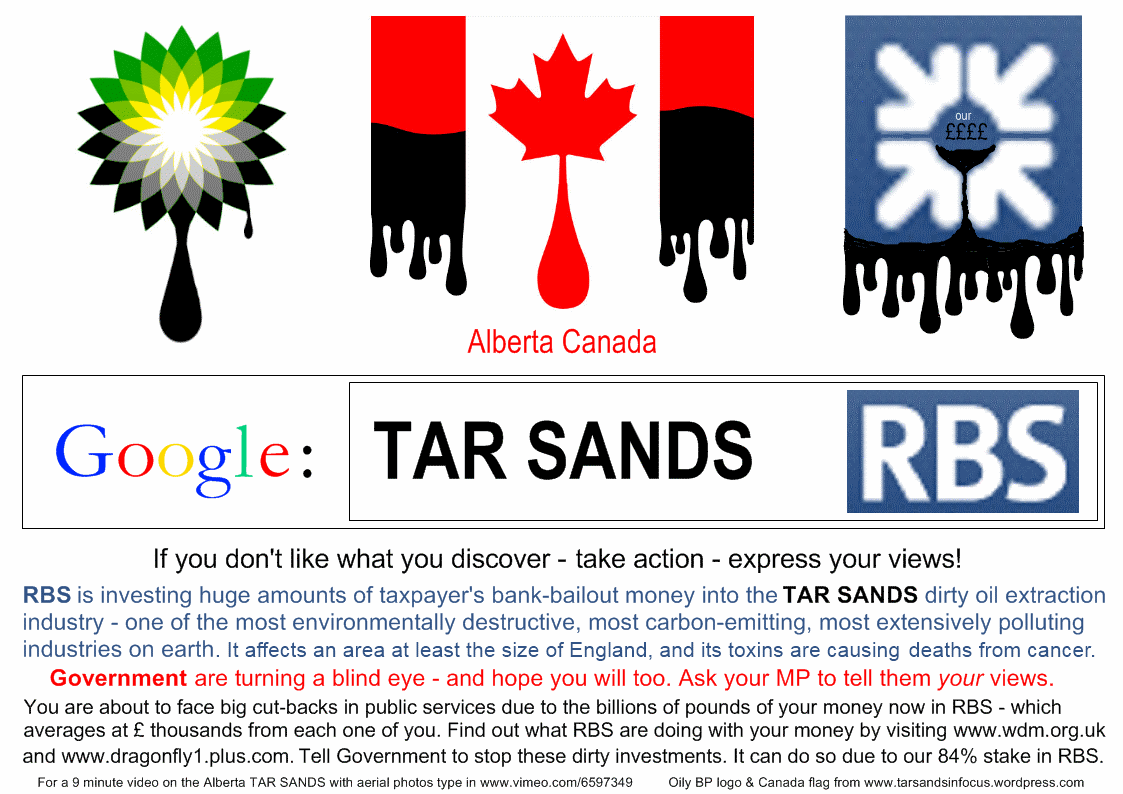 www.vimeo.com/6597349
www.fairpensions.org.uk/tarsands/action
Click to the left to obtain the A4 Acrobat pdf version which you can save. Do e-mail it on to as many people you know who might be even slightly interested. (Also you could e-mail on the info sheet or simply name this website in your e-mail.)
Print and display it where-ever you think fit - but ask first where appropriate even if only to be courteous. Be prepared for unexpected refusals. (Oil companies sponsor various establishments - which can potentially lead to suppression of information about e.g. the Tar Sands, Nigeria Delta etc)
Some other ideas for poster display
:
CAR: On "parcel shelf" at back of car. BICYCLE: You could attach it to your bicycle crossbar when you chain it up in town - e.g. to a lamp-post near an RBS branch!
(e.g. seal it in plastic sleeve; attach latter to crossbar with string spiralled through holes along sleeve. Can be rolled tightly around crossbar when cycling, tied in place)
Privately owned coffee shops may allow you to add it to their magazine rack if you speak to the person in charge. Your hairdresser may be happy to display it (waiting customers often want something to look at or read).
Posted on 17/6/11: Greenpeace tar sands slide-show during which
Melina Laboucan-Massimo, a member of the Lubicon Cree First Nation describes the impact of oil and gas developments and the recent oil spill in the traditional territory of the Lubicon Cree in northern Alberta:
http://www.youtube.com/watch?v=qz3nSscXamI&feature=share%5C